One of the biggest and busiest night event in Manitoba is
"Nuit Blanche"
 which is a part of
Culture Days Manitoba
. So I decided to pay a visit and made sure I brought my camera along. 

I can say for a fact that Nuit Blanche was different this year than all of my previous visits. As Nuit Blanche is just an overnight event, I made sure I got the most out of it whereas the past few years I mainly attend one area. 
Nuit Blanche usually starts at 6pm but I couldn't hold the excitement. So, as soon as I was finish my work at 5pm, I made my way to one of the main location of Nuit Blanche –
The Forks
. Speaking from experience, I knew parking would be the hardest part of the night; and that is another reason I wanted to start my night early.

I strategically parked my car on Hargrave St so I could escape the traffic- you know, post Nuit Blanche. Parked my car, and made my way to the Forks. Thought about taking out my camera and take some pictures on my walk to the Forks, but I also wanted to save the batteries for the event. 
As soon as I made it to The Forks, I headed straight to the Esplanade Riel Bridge. I really wanted to see the
"Run for Your Lite"
event this year as I missed out on it last year. Then I moved on to the big architectural piece presented by The Forks, called
Forever Bicycles
– a remarkable piece of art. I then headed towards the Forks Market for a break and realized that they were having an event called
"One Mural for Diversity"
. Absolutely amazed by the passion that some people have towards art! Moving towards the foot bridge, I saw another really interesting piece called
"The Passage"
. Now this was a piece that you could never get bored of. It was a walk through tunnel like structure with glowing florescent lights all around. I saw people walking through it again and again. When I first made it there, only one line was going through and when I was about to leave, 2 lines were created for all of the people who weren't able to get enough of going through The Passage.
It was around 8pm and it was time for me to move to the next hot spot of the night –
Exchange District
. I was joining a photo walk with many different creators hosted by Nuit Blanche in association with Travel Manitoba. The tour began at the Cube where all the highlighted events were; like
The Loop
and
The Cycle
. There was also a fire show near the Cube that attracted a large audience.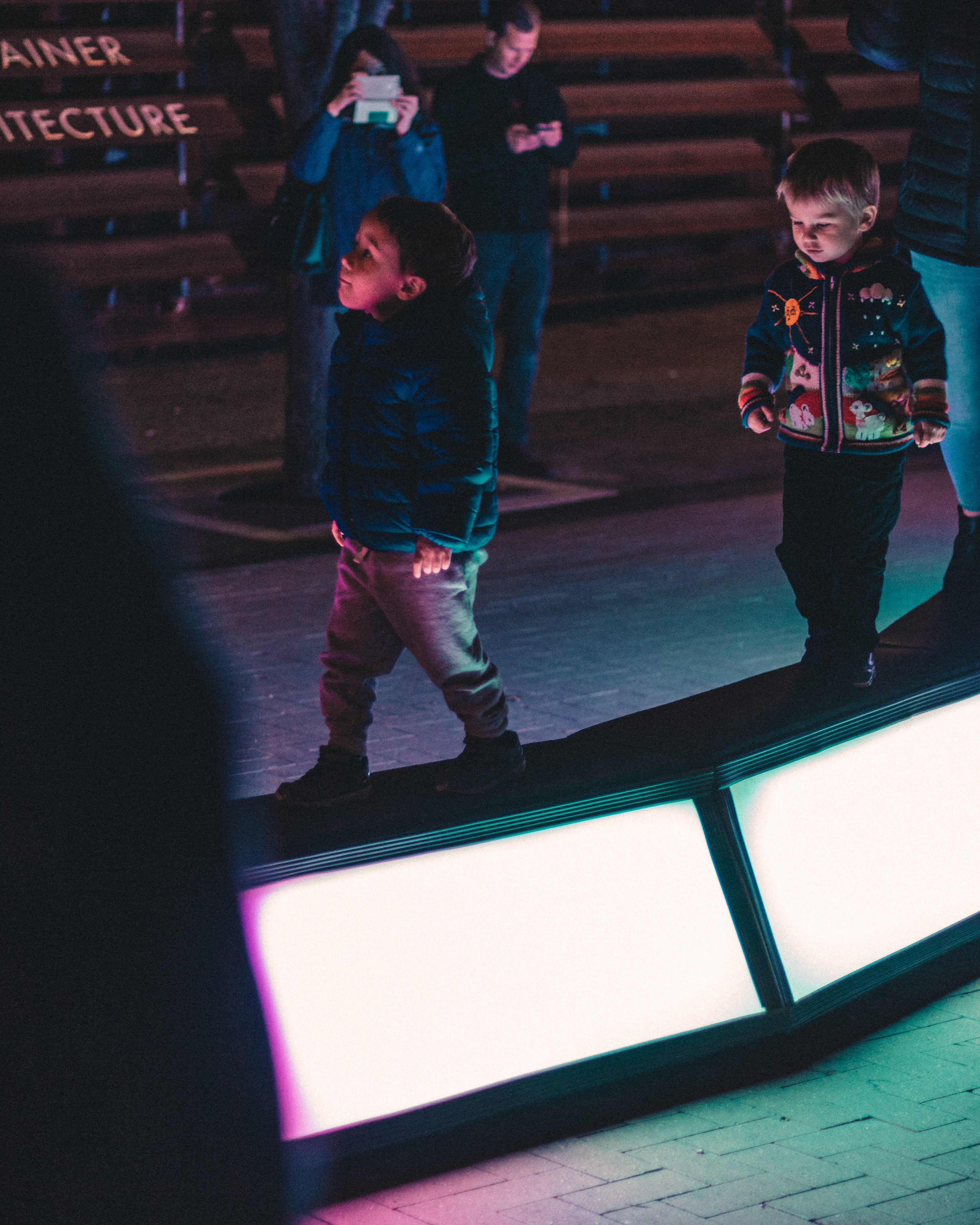 We then headed towards Market Street for an event called
"ALLEZ HOP!"
Now this event took a lot of planning and it definitely was worth it, this was one of my favorite events of the night. This event was so entertaining that I didn't feel like taking pictures, I just wanted to watch the basketball game. We then moved on to the
"Projector Event"
on Main St by the Palomino club, I unfortunately wasn't in this location for long and was unable to see what they were trying to convey with the projections. And finally, we were at the final location for the night,
"The Little Brown Jug"
. Best way to end a night of Nuit Blanche.
All in all, I can definitely say that if you plan the night right, it is possible for you to see a lot of interesting and innovative events. I still believe that if there was an extra night for these Nuit Blanche events, I would have explored more. 

I tried to check out a couple more events the next day from Culture Days Manitoba. The first stop I made was at
"Be the Canvas"
event held at
Rachel Browne Theater
. I could barely take any pictures here as I didn't want to interrupt the performance. And finally, the last stop I made was at
"After Words: Club Jazz Open Mic"