I had an amazing opportunity to visit Turtle Mountain Provincial Park for the first time with Travel Manitoba. 
This region of the province of Manitoba has been on my to-visit list for a while and I never imagined that I will be visiting it when the gas price was around $2/litre. With everything becoming expensive and the world recovering from the Covid-19 pandemic, it was more important to go on a road trip and explore more of our great province of Manitoba that I call home.
Turtle Mountain Resort was glad to sponsor me during this visit and let me stay at their Cabin 3. Chris and Carol, owners of Turtle Mountain Resort are one of the best hosts I have met so far. They were very informative about the area and had a full itinerary ready for the weekend. 
We arrived on Saturday evening with the weather being a little rough with heavy rain here and there. We just got settled in and ordered some take-out food from the Velvet Antler Cafe at the Turtle Mountain Resort, also run by Chris and Carol. 

The next day was all about hiking. Chris and Carol informed us about a few interconnecting hikes just walking distance from the cabin called The Metigoshe Walking Trails. I tried to find these hikes on the internet but wasn't able to find them, so if it wasn't for Chris and Carol, I wouldn't even know that these hikes existed. 
The Metigoshe Walking Trails were great and were labeled properly throughout the hike. They are perfect for a family with children. It showcases a lookout tower, a floating dock, and a small footbridge.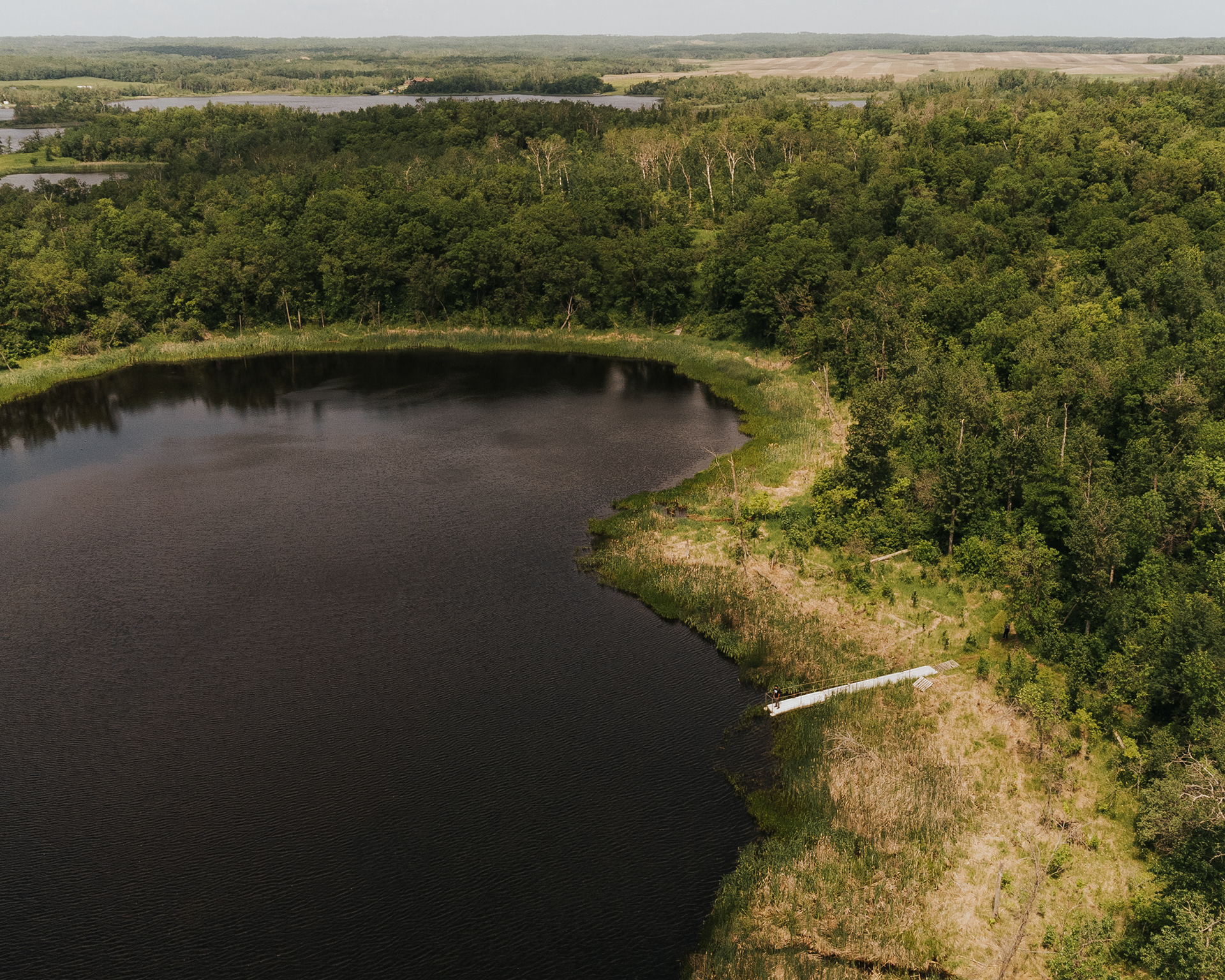 I later tried to hike The Disappearing Lakes in Turtle Mountain Provincial Park. I heard about this trail from a few places so was excited to check it out but the trail was outgrown. Because the water level is high this year, I think the Parks Canada employees weren't able to make it to this hike to maintain it. I walked about 25% of the hike and walked back with about 9 ticks. 
After the failed attempt to hike The Disappearing Lakes I was hungry to get some fuel in me before a very exciting hike later in the day. I then drove to Boissevain to quickly visit Tommy the Turtle and have some food right next to it. The idea for Tommy the Turtle came to the Boissevain in 1969 as a way to attract tourists and represent the Turtle Mountain area. The attraction was built years later with a construction cost of only $9,000.

While in Boissevain, we quickly stopped at Irvin Goodon International Wildlife Museum. This Museum is filled with information about the Indigenous Culture, Wildlife, and Natural History of the Turtle Mountain Area. 

After exploring Boissevain, we headed to the Turtle's Back Trail. I wanted to hike the Turtle's Summit and this was the perfect opportunity to do so. This hike showcases a small bridge and one of the best observation towers I have seen so far in Manitoba. One of the main reasons why it's so good is because it's right at the top of Turtle's Summit. This location was previously used as a great lookout point for hunting for the Indigenous population. 
The night was still young after spending a whole day of hiking, so I drove back to my cabin to have a bonfire. Spent a solid 2 hours by the bonfire because surprisingly there weren't that many bugs out in the area. 
The next I started with breakfast at Velvet Antler Cafe. Carol was so accommodating that she made something out of the menu because of my dietary restrictions. After breakfast, I was ready to canoe Metigoshe Lake. Carol provided me with a canoe and all the equipment required. Metigoshe Lake is a lake shared by the province of Manitoba and the state of North Dakota. This is very significant because I saw everyone in the area from both sides living as friends with no issues of being from completely different countries. The canoe to Metigoshe Lake was beautiful but a bit challenging because of the strong winds. 


After canoeing, I was ready to say goodbye to the lovely cabin. I grabbed a couple of ice cream treats for the road and head out from the Turtle Mountain Resort. I decided to stop at International Peace Gardens before heading back to Winnipeg. Tim, the CEO of International Peace Gardens was glad to give me a tour of the place and the amazing attraction. It was founded in 1932 on the premise of peace, cooperation, and friendship between the two countries. It is a non-profit botanical garden dedicated to the mission of celebrating peace and fostering a more peaceful world. The volunteers of the place plant about 50,000 plants each year. This place is definitely a must-visit because it has more amenities like a campground and hiking trails as well.

After this tour and a promise to visit again, I headed back to Winnipeg after a magical couple of days. If you have it this far, I appreciate you reading this blog. I hope all this information someday helps you if you ever plan on visiting Turtle Mountain Provincial Park. If you have any questions or want to connect, my social accounts and email is linked to my blog. 
Thank you
Sandeep Singh